About
TrueJob
TrueJob is a new type of job search website — for everyone. Job websites haven't progressed in 20 years, and it's time to bring them into the 21st century. By combining smart algorithms with new technologies, we believe we can do the same thing to Job websites that Google did for search engines. Skeptical? Read on...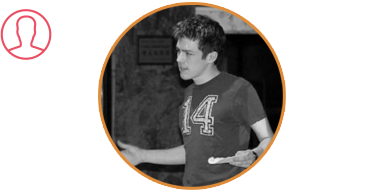 Scott Goci
Co-Founder
Scott has been building startups for the past 3 years - through his work at Alfajango he's worked on dozens of startups, including a Y Combinator backed startup.
In his spare time he organizes Ann Arbor Coffee House Coders, a group dedicated to helping people learn to code.
To see the startups he's worked on, the side projects he's created, and more, click here.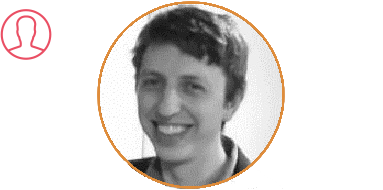 Mike Kling
Co-Founder
Mike met Scott through the Ann Arbor Coffee House Coders and joined Truejob after a 3 year stint as an equities trader in New York at Jane Street Capital.
He's excited to bring his experience building critical infrastructure and quantitative models to improve the job search experience at Truejob.
To see some of his other side projects and essays click here.
Current job websites usually ask you two things to find a job: Job Title and Location, criteria that seem pretty unimportant when finding a job. Here's why:
Job titles can differ wildly: you might be a Search Engineer at Google one day and a Software Developer at a startup the next. So what job title do you end up searching for?
Location isn't permanent: you might not want to work in Boise, Idaho, but if you were offered $300,000 a year you might change your mind. And what about remote jobs, where are those "located"?
Instead, we've built a Pandora for jobs — upload your profile / resume (from LinkedIn, Facebook, JSON Resume, manually fill it out, etc), and our algorithms figures out your best skills and gives you a base set of recommended jobs.
Don't like those jobs? You can start to rate 1-5 stars the job recommendations we give you, or like / dislike different aspects of the job posting you like and dislike. Our algorithm crunches the numbers, and then gives you new job recommendations based on what you told us. You can even start to just highlight words in the job posting, and pick which words you love and which words you hate, and you'll get back new jobs that fit all those criteria. No more job postings with the words "Front End Ninja" or "Expert Hacker". Check it out: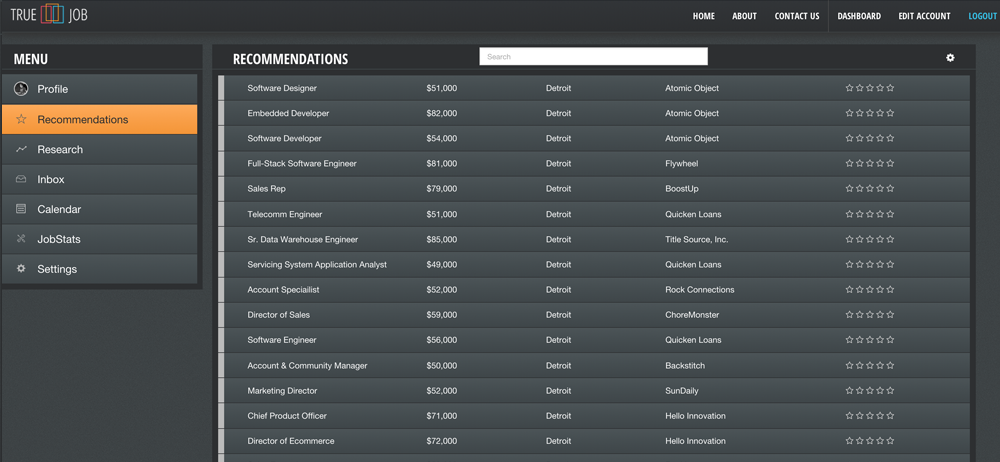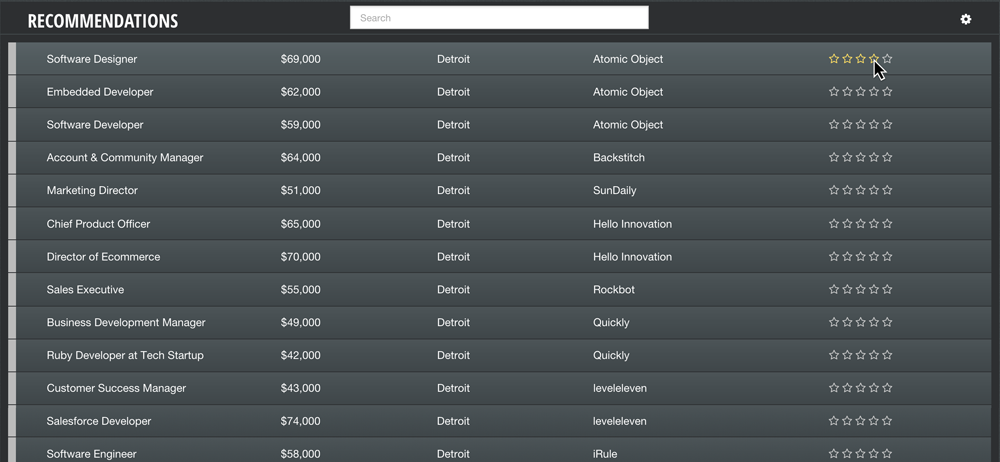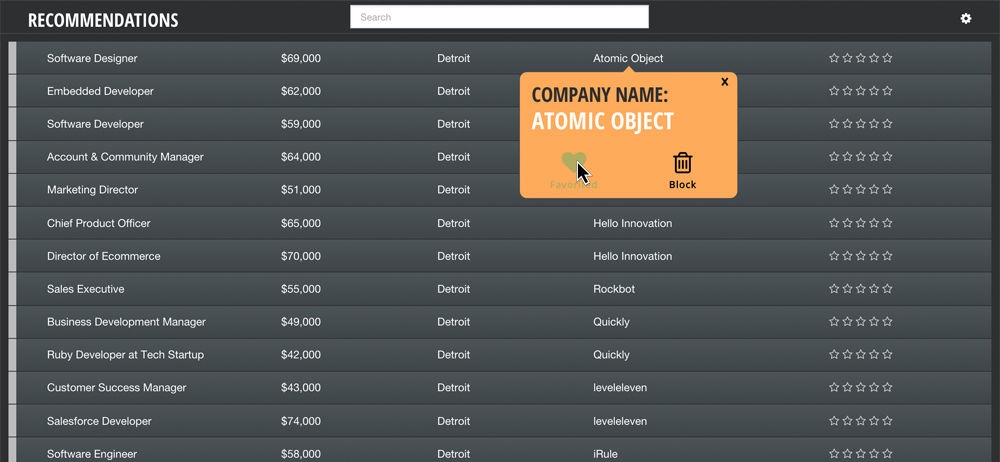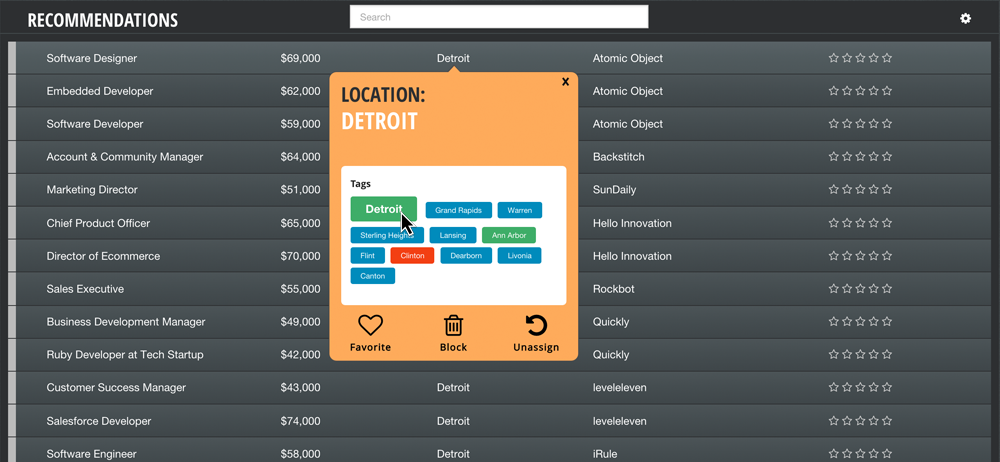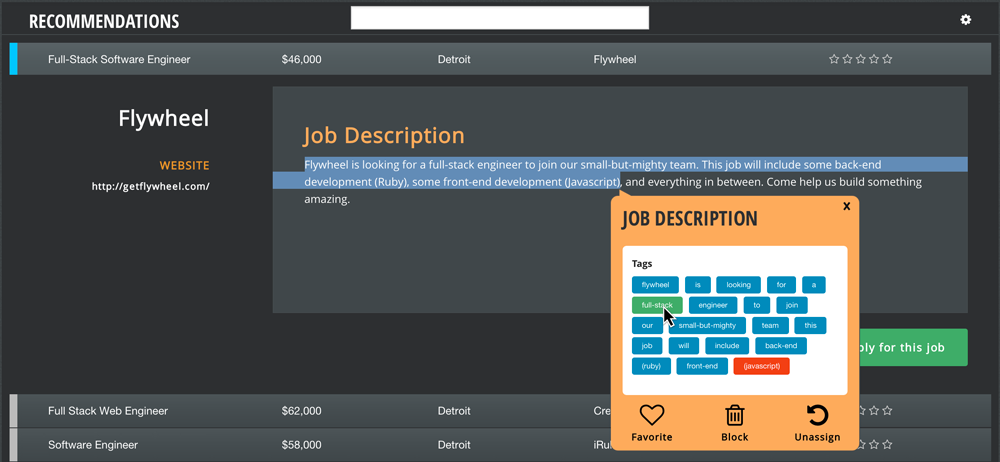 Right now, job seekers search all the different permutations of what job title they might want, what keywords they might be looking for, and all the places they want to work. But are they missing out on jobs because they had forgotten another term to search for? By instead focusing on recommendations, we don't have to search anymore — we just get lists of jobs, and start to say what we do and do not like, and more jobs that better fit us come up, no matter what their location, salary, job title, or company. No more searching — just recommendations.